Like many of you, when we first became interested in large scale model railroading we built a number of plastic building kits. The first was a station, of course, followed by a sawmill, a warehouse, etc. However, we were not completely happy with the resulting toylike, tupperware structures that were, all too often, very undersized. Looking for better things we bought a laser cut wood kit for a logging bunkhouse and, while it was more realistic in size, it was also very flimsy and tended to warp after being outside for awhile, despite much added reinforcing. Next, I bought plans for a station from a well known supplier but, once I made the framework for it, I realised it was just ridiculously small for a station, so I finished it as a handcar shed instead.
Then my wife's mother sent us a photo of an historic house she had visited while on a trip to northern British Columbia. It was a pioneer ranch house and inn, built in 1865 on the old Cariboo Trail of squared log construction.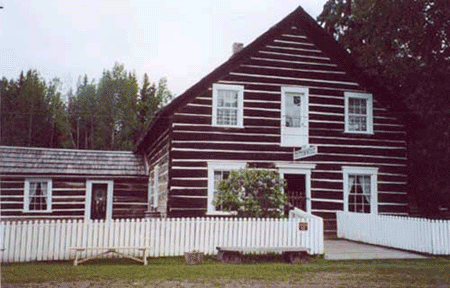 That gave me the idea to use 1/2" square wood strips to duplicate the logs, so I decided to draw up plans to build my own Cottonwood House. It certainly produced a very sturdy, weatherproof model and one that has stood up well to northwest rains and snow for over five years now.
The Cottonwood House was followed by a freight shed and loading dock to turn the house into a small trackside business, in our case a winery. Next came the Homestead House, a smaller structure based on an actual squared log pioneer farm house on Vancouver Island, BC and, later, I switched the gable ends to produce the Old Thyme House. All three of these log houses will be right at home on any railroad based in the West or in the mountainous regions of the East.
| | | | |
| --- | --- | --- | --- |
| | | | |
| The Cottonwood House on our layout as originally built, without the wing, but with the freight shed and loading dock. I later added the wing as pictured on our home page. | | Winter on the Burlington and Okanogan. Earlier that day the snow was covering the front door which may explain what the upper door was for. The area where the real Cottonwood House is gets ample winter snow. | |
Following a trip to see the Cottonwood House, my wife Betty and I visited the nearby historic mining town of Barkerville and came back with ideas, photos and measurements for several other models. The unusual old time church and the squared log livery stable/barn are based on actual buildings in Barkerville while the big Masonic Lodge there inspired the smaller two story building in our town series.
Click on photos below to enlarge.
Part of the main street of Barkerville, BC in Canada. This was the feeling we were looking for with our one and two story town buildings.

The Masonic Hall in Barkerville, built in 1869.

Saint Saviour's Church in Barkerville.

One of the livery stables in Barkerville.
The engine shed and the feed and grain business are, admittedly, freelance designs but the country station is based on a small station on an old New Jersey shortline. The major change from the original is the addition of the operator's bay which, we felt, was necessary to control the busy traffic on the mighty Burlington and Okanogan.
One winter I did a grain elevator and balloon grain storage annex, based on a complex in northern Manitoba, which we saw and photographed in 2005. It is similar to those built throughout the US and Canadian prairies starting in the early 1900's. A trip to Colorado in June 2009 added several D&RG buildings, the yardmasters office in Eli, the stockyard, and several other buildings. I've also done a decent sized warehouse or freight station, that will hold more than the average box car at least. If you have a suggestion for a structure you'd like to see, I'd be glad to hear from you. As we work on new designs we'll keep adding them to this web site, so check in from time to time.
Also, if you build a structure from our plans and we use a photo of it on this web site, we'll give you a one sheet plan (or the equivalent) of your choice free. We also love slide shows that show how buildings were constructed.



We accept Visa & MasterCard by phone, US & CDN personal checks & Money Orders (be sure they are cashable outside the US) by mail or phone. Western Union money transfers can also be used, please e-mail details to brewer@island.net Make checks, money orders and Western Union transfers payable to Betty Brewer or Brewer Railroad Plans, as my wife does the banking.
No COD's, PayPal, debit cards, or direct bank transfers please!
All prices are in US Funds.
We do not share customer information with anyone without their express permission.
We ship all plans folded and airmail, use the table below to calculate shipping costs:
| | | | |
| --- | --- | --- | --- |
| order size | Canadian | United States | Other International |
| 1 sheet | $1.80 | $2.95 | $5.90 |
| 2 or 3 sheets | $2.95 | $5.15 | $10.30 |
| 4 or 5 sheets | $4.10 | $10.30 | $20.60 |
| 6 or 7 sheets | $4.70 | $10.30 | $20.60 |
| 8 to 10 sheets | $5.05 | $10.30 | $20.60 |
For larger orders, use the 10 sheet price plus the price for the number of additional sheets
as anything over 500gm will need to be shipped in two envelopes.
All plans are sold on a no exchange, no return basis.
Contact us at:
Brewer Plans
1825 Evergreen Drive
Agassiz, BC CANADA V0M 1A3
revised 9 July 2014